Sweet and spicy Cayenne wings
You will need:
500 grams chicken wings or drummettes1 cup fruit chutney
Quarter cup Worcestershire sause
50ml Apple Cider vinegar
1 teaspoon Cayenne pepper
salt to taste
1 sprig oraganum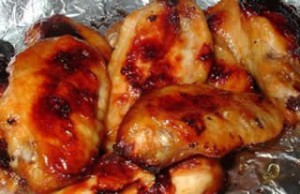 Method:
A very simple recipe. Simply combine all the ingredients to make a sticky marinade. Place the wings in a dish and cover with the marinade. Let it stand for the a few hours or overnight. Arrange the wings in a baking dish and pour remaining marinade over the wings. Preheat oven to 180 degrees C and place wings in oven. once they are golden brown turn them to grill the other side. Keep a watchful eye as this marinade burns easily. Alternatively you can grill them over a barbeque/braai. Make sure the coals are not to hot and turn frequently.
———————————————————————————————————-
Fettuccine with Cayenne ans sweet pepper sauce
You will need:
500 grams dry fettuccine pasta
2 red bell peppers, cut into strips
2 fresh Cayenne peppers (optional)
3 cloves garlic, minced
3/4 teaspoon cayenne pepper
1 cup reduced fat sour cream
3/4 cup chicken broth
3/4 cup grated Parmesan cheese
Salt and pepper to taste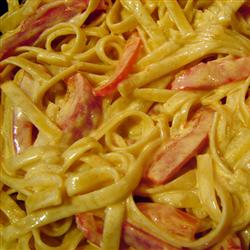 Method:
Boil a large pot of salted water. Add the right amount of pasta and cook for 8 -10 minutes, once cooked drain off excess water and add some a table spoon of cooking oil or olive oil. Toss gently to spread the oil. As you are going to be cutting the peepers and Cayenne peppers into thin strips, ribbon pasta like Fettuccine will work well here but you can also use Macaroni or regular Spaghetti.
While the pasta is on the boil you can you can get going on the peppers. Cut the sweet peppers and cayenne peppers into thin strips( Cayenne pepper very thin strips). Spray cooking oil in a large skillet and sauté the peppers and garlic for 3 to 5 minutes. Now you can add this to the pasta. Next add the sour cream and broth. Let this simmer for about 3-4 minutes at medium heat. Take pot off the heat and add the cheese and stir it in. Add salt and ground pepper to taste. Give the pasta a toss before serving.
You can add fried chicken strips for some variety or substitute the chicken broth with beef stock and use beef strips instead of chicken.
Bon Appetit!!
---
Ingredients
Serves four
1-2 tbsp olive oil
1kg leg of lamb, diced into 4cm pieces
2 onions, finely chopped
2 green peppers, finely chopped
3 tbsp tomato puree
4 garlic cloves, finely grated
3 large beef tomatoes, chopped
1 tbsp dried oregano
1/2 tsp cayenne pepper
200ml chicken stock
A good handful of parsley, roughly chopped
Natural yoghurt, to serve
For the aubergine:
3 tbsp olive oil
4 aubergines, sliced in half lengthways
1 tbsp cumin
2 tsp dried coriander
4-5 tbsp pomegranate syrup
Sea salt and ground black pepper
Method
This Turkish lamb stew borrows from the traditional recipe for hünkar begendi or Sultan's delight which is served with a silky aubergine puree. I've swapped the puree for spiced sticky roast aubergines, which are wonderful in this dish but can also be eaten as a vegetarian option, with a warm rice or bulghur wheat salad. Add the oil to a casserole over a high heat and brown the lamb pieces in batches, before setting aside on a plate lined with kitchen paper.
Pour a drop more oil to the pan if it needs it. Fry the onion and peppers for six minutes, or until just tender. Add tomato puree, garlic cloves, tomatoes, oregano and cayenne pepper and stir through. Pour in the stock and bring to a steady simmer. Return the lamb to the pan, season and bring to the boil, cooking covered with a lid on for 1 hour and 30 minutes, or until the lamb is tender. Remove from the heat and stir through half the parsley.
While the lamb cooks, preheat the oven to 200 degrees/gas 6. Score the flesh of the aubergines with a sharp knife to create a diamond pattern. Drizzle generously with olive oil and rub with cumin and coriander until completely coated.
Place in the oven for 35 minutes, or until the flesh is just tender but still holds its shape.Brush generously with the pomegranate syrup on all sides. Place back in the oven to cook for 5-10 minutes until caramelized and sticky.
Serve the lamb with the aubergine, a dollop of yoghurt and a sprinkle of parsley.